WELCOME TO THE END...
...of the year. Before we get to the top ten, let's give out some random awards for some of the year's most miscellaneous achievements...

Most unnecessary album by a washed-up, self-parodying artist:

Ozzy Osbourne, Black Rain. On track 5, Ozzy sings, "God bless the almighty dollar!" Yeah, you're one to talk, Ozzy.

Best concept album about an alien who drinks coffee:

Devin Townsend, Ziltoid the Omniscient. This will probably be the last Devin release for a long time, since he has announced his complete retirement from the music business, notwithstanding the occasional rendering of production services. It's a fun CD, but I'm afraid all the spoken word parts will probably end up hurting its replay value.

Best brutal death album with lyrics about ancient Egypt:

Nile, Ithyphallic. I'm probably going to stop buying Nile albums eventually if they don't start doing, i don't know, SOMETHING a little differently from time to time. To its credit, Ithyphallic has a lot of slow, foreboding parts, which is one of my favorite Nile traits.

The "Band that's trying too hard to sound like Dark Tranquillity" Award:

Dark Tranquillity, Fiction. To me, this album is a considerable slump for Dark Tranquillity. It seems they've gotten a little too comfortable with the tried-and-true formula of the last three albums. Although I've come to regard Character as a virtually flawless masterpiece of elegant disenchantment, I would have to rank Fiction at the very bottom of their discography out of respect for their past accomplishments.

The "What were they thinking letting the guitarist sing?" Award:

Dream Theater, Systematic Chaos. Up until now, every aspect of Dream Theater's sound has been characterized by technical precision and musical perfection, including the vocals. But that was before Mr. Petrucci decided it would be a good idea to start shouting random phrases in a normal speaking voice. I guess he did some of that on Six Degrees, too, but my point is, the man's a guitar god, and he should just stick with that and leave the singing to... um... well, sometimes I wonder.

Most ridiculous packaging:




Symphony X, Paradise Lost. Those tacky cardboard cut-outs are supposed to be flames, but they look more like the hands of a jack-in-the-box clown, and they're just as hard to cram back into place after you've popped the damn thing open.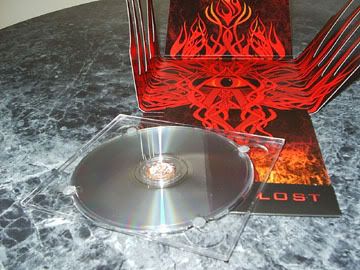 It also breaks easily, since the CD tray is only held in place by 4 small globs of that same temporary sticky stuff they use to hold together elaborately folded junk mail brochures.

But enough about the gross material aspects of modern-day musical archival receptacles; let's talk about the sonic vibrational frequencies resonating therefrom...

10. Amorphis, Silent Waters. After being estranged from Amorphis ever since Elegy, I think they finally won me back with this one. At long last they are letting their Finnish death metal roots shine through once again, albeit while retaining plenty of their newfound accessibility.

09. Black Horizons, A Dream's Funeral. The spirit of 20th century Dissection lives on in A Dream's Funeral. This is probably what most fans were hoping the last Dissection album would sound like. Godspeed you black metallers.

08. Cruachan, The Morrigan's Call. The latest from Cruachan features more metallized traditional Irish songs than ever before, which is hardly a bad thing, considering how well they execute their distinctly Irish-sounding folk metal. Karen's vocals sound better than ever.

07. Korpiklaani, Tervaskanto. Korpiklanni's Tales Along This Road deserved to be on my Top 10 list from last year, but I managed to overlook it somehow. Needless to say, I haven't forgotten them this year. WARNING: Korpiklaani's festive folk metal is the perfect drinking music, and thus it is not recommended for recovering alcoholics, pregnant women, women who are nursing or may become pregnant, women who may become nurses, or male nurses who may become womanizers.

06. Dillinger Escape Plan, Ireworks. If you've already written off Dillinger as a hardcore act, you owe it to yourself to give them another chance based on this boldly creative effort. These guys have managed to restructure their sound in several directions while still keeping it structurally sound (no pun intended). In between satisfying their face-smashing tendencies, they delve into some interesting tangents which sometimes invite comparisons with bands like Nine Inch Nails and Mr. Bungle, oddly enough.

05. Samael, Solar Soul. According to Captain Obvious, Samael isn't black metal anymore, and I would argue that they never were to begin with. Once you get past this dilemma, you may begin to regard Samael's unique brand of blackened new age industrial metal as a useful souvenir not unlike the army knives of their native country. And even if you thought things were getting a bit too danceable on the last two albums, Solar Soul may win you back with its fresh batch of trademark creepalong songs.

04. Vintersorg, Solens Rotter. Although I still prefer The Focusing Blur for its many memorable moments (and lyrics in English), Solens Rotter nonetheless meets the rigorous Vintersorg standards of extremely high quality metal, which is enough to propel it this far up on my list.

03. After Forever, After Forever. Did you know After Forever was still around? Neither did I, until this self-titled album came out. Fear not, for they are still making complex classically influenced "beauty and the beast" metal, and they have not gone the way of Theatre of Tragedy.

02. Turisas, The Varangian Way. Progressive symphonic viking folk metal at its finest. Just when you think you have this band figured out, they completely throw you for a loop on the next track. Undoubtedly my best new band discovery of the year.

01. Therion, Gothic Kabbalah. Therion returns with yet another double album, this time scaling back the choirs and orchestration in favor of solo vocal performances and more intricate guitar and drum work. If you think that sounds like a recipe for something that isn't as powerfully epic as previous Therion material, think again. Therion is so powerfully epic that when people see them walking down the street, they say, "Goddamn, the epic power of that band is so epically powerful I can almost taste it with the mystical tongue of my brain's third eye!" Seriously, someone might say that.